Kali
Books: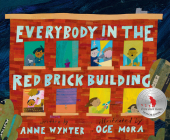 $17.99

ISBN: 9780062865762
Availability: On our shelves now.
Published: Balzer + Bray - October 19th, 2021
Catch a glimpse of the nightly goings on of a red brick apartment building, in this cute, sleepy story of chain reactions. With almost scrapbook-like illustrations reminiscent of childhood crafts, and plenty of sound effects just waiting to be blurted out with whimsy, this diverse picture book is a great way to end a chaotic day and get settled for bed.
---

$28.00

ISBN: 9781668000830
Availability: On our shelves now.
Published: Scribner - January 3rd, 2023
Travel back in time to 19th-century London, where two men unite to write a groundbreaking academic journal covering sexual freedom. With enthralling detail, this book shows the harsh reality of being gay in the late 1890s, while also providing the reader with glimpses of happiness, as well as hope for a better future. Based on real-life people, this is one of the most engaging historical novels I've read to date.
---

$18.99

ISBN: 9780063051737
Availability: On our shelves now.
Published: HarperTeen - October 11th, 2022
Robin Roe blew me away with her exploration of trauma, identity and friendship. Every character felt achingly real and there were just enough twists to keep me on the edge of my seat, wondering how and even if Sayers would escape. This haunting tale will stay with you long after you've read it.
---