Jane Kohuth
Jane, a former Wellesley Books Bookseller, graduated from Brandeis University with a degree in English and Creative Writing and from Harvard Divinity School with a Master's Degree in Theological Studies. Though not all of what she's studied makes an appearance in her work (no Biblical Hebrew yet), the habits of creative thought and curiosity she developed in school help her every day. She has worked as a Jewish educator, a children's room library assistant, a writing teacher, and a children's bookseller and organizer of author events.

You can find Jane on Facebook (www.facebook.com/JaneKohuth.Author), Twitter (@janekohuth) and on her website www.janekohuth.com.


To get a signed copy, simply write "SIGNED COPY" in the comments section. Indicate if you would like it customized for a specific person (books must be pre-paid for this option). Gift wrapping is complimentary.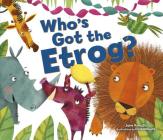 $7.99
Email or call for price.
ISBN: 9781541509672
Published: Kar-Ben Publishing (R) - August 1st, 2018
---

$4.99
Email or call for price.
ISBN: 9780375865602
Published: Random House Books for Young Readers - February 8th, 2011
---