ONLINE: Bedtime Story with the Author & Illustrator: Jennifer Frank & David Ezra Stein "The Worm Family Has Its Picture Taken"
Kids, don your jammies and join us for a Bedtime Story with the author and illustrator themselves! Jennifer Frank & David Ezra Stein present The Worm Family Has Its Picture Taken, their hilarious picture book about a young worm who comes to appreciate her very unusual family for who they are.
------------------------------------------
ABOUT THE BOOK
Emma is excited for her worm family to have their portrait taken. But when she sees her other friends' portraits, she gets discouraged. "We had the most beautiful smiles," Ellie the Chipmunk squeals. Abigail the Cat meows, "I looked gorgeous with my big poufy hair." The worm family doesn't have teeth…how will they show their beautiful smiles? They don't have hair either…how can it look big and poufy?! So Emma gathers wigs, giant fake teeth, and colorful clothing for her parents and sisters.
But it's only after taking off their costumes that the worm family is able to wriggle and squiggle and squeeze into a delightful pose that only a worm family can make. And Emma? She thinks it's perfectly perfect.
ABOUT THE AUTHOR
Jennifer Frank lives with her three daughters, Emma, Abby and Olivia, her husband Sam, and their schnoodle Lola in Wellesley, MA. Jennifer grew up in Wellesley and is particularly excited to be launching her debut picture book at Wellesley Books. She and her kids have spent many hours there over the years, browsing and reading! Her debut picture book, THE WORM FAMILY HAS ITS PICTURE TAKEN is being released by Anne Schwartz Books on May 11, 2021. Jennifer writes with the hope of making children laugh and inspiring them to celebrate differences. When she's not writing, Jennifer enjoys curling up on her couch reading, traveling (during non-pandemic times), spending time with family, riding her bike, and taking long walks with her husband. She is a member of SCBWI and a Children's Book Academy graduate.
ABOUT THE ILLUSTRATOR
David Ezra Stein is the Caldecott Honor illustrator and author of INTERRUPTING CHICKEN and its sequel, INTERRUPTING CHICKEN AND THE ELEPHANT OF SURPRISE, which the Wall Street Journal called "a celebration of love and language." The next in the series, INTERRUPTING CHICKEN, COOKIES FOR BREAKFAST, will publish in Fall 2021. David is also the creator of DINOSAUR KISSES, I'M MY OWN DOG, and many other award-winning picture books. His picture book LEAVES won the Ezra Jack Keats New Writer Award and was a Publishers Weekly Best Book of the Year, a Kirkus Reviews Editor's Choice, and a School Library Journal Best Book. He lives in New York. Visit David at davidezrastein.com.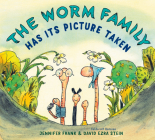 $17.99
ISBN: 9780593124789
Availability: Coming soon - AVAILABLE FOR PRE-ORDER NOW!
Published: Anne Schwartz Books - May 11th, 2021
---