IN-PERSON: Storytime with the Author: Jamie Harper and Heather Lang - "Supermoms! Animal Heroes"
Join us for a great story, craft activity, and treats! Co-authors Heather Lang and Jamie Harper join us for Storytime with the Author to read their new picture book, Supermoms! Animal Heroes, about the amazing lengths animal mothers go to in caring for their young.
This is a free event, but we ask that you RSVP with the link below (no fees). If you prefer, you can RSVP by phone at 781-431-1160.
If you do not want to attend the event but would still like to buy the book, you can do so by scrolling down.
-------------------------------------
ABOUT THE BOOK
In comics-style panels full of facts and humor, this lively picture book investigates the amazing lengths animal mothers go to in caring for their young.
An emperor penguin mom treks up to fifty miles to bring food to her hungry chick. A toothy American alligator carefully carries hatchlings in her mouth, shuttling them safely to the water. A piping plover uses her best acting skills to feign an injury, luring predators away from her offspring. Whether building elaborate burrows, forgoing food for months on end to feed their cubs, toting hundreds of spiderlings on their backs, conducting patient swimming lessons, or fearlessly kicking away hyenas, mothers in the animal kingdom—whatever their species—give it their all (and then some!) to keep their little ones safe, fed, and ready to face the world on their own. This first book in a young series on animal science includes in its back matter a look at the "super" qualities of some of the animals and offers a collection of resources for budding naturalists.
ABOUT THE CREATORS
Heather Lang is the author of The Leaf Detective: How Margaret Lowman Uncovered Secrets in the Rainforest and Swimming with Sharks: The Daring Discoveries of Eugenie Clark, among other books. She lives in Massachusetts.
Jamie Harper is the author-illustrator of four books about the feisty flamingo teacher Miss Mingo as well as the Baby Bundt board books and the picture books Miles to Go and Miles to the Finish. She lives outside Boston.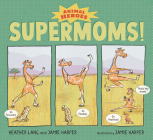 $17.99

ISBN: 9781536217971
Availability: On our shelves now.
Published: Candlewick - March 7th, 2023
---
Event address:
Wellesley Books
82 Central St
Wellesley, MA 02482-5714