ONLINE EVENT: Bedtime story w/ Robb Pearlman "Bob Ross and Peapod the Squirrel"
Robb Pearlman, author of Pink Is for Boys, joins us at bedtime to read his new book, Bob Ross and Peapod the Squirrel.
This free online event will take place through Zoom. In order to gain access, attendees must register by clicking the link below:
Get a head start and make sure you can join the event on time by downloading Zoom (for free) onto your computer or device right now.

Support our independent bookstore and buy
Bob Ross and Peapod the Squirrel from Wellesley Books below!
Curbside pickup is now available!
--------------------------------------

ABOUT BOB ROSS AND PEAPOD THE SQUIRREL
Bob Ross paints a stunning home for his squirrel friend, Peapod, in this delightful nod to a painter icon.
This is the sweet story of a painter (Bob Ross) who helps his squirrel friend, Peapod, find the perfect home to live in. Bob paints an actual Ross painting, "Meadow Lake," in this charming tale about helping friends and embracing the serenity of life. Bob, along with Peapod, go through the various steps and processes to painting, including praising those "happy little accidents" that happen along the way.
ABOUT THE AUTHOR
Robb Pearlman is the author of numerous adult and children's books, including Running Press Kids's Pink Is for Boys. He is the associate publisher of pop culture and entertainment books at Rizzoli, and recently worked on Bob Ross: The Joy of Painting. He lives in New Jersey, with his husband and fluffy dog, Oscar.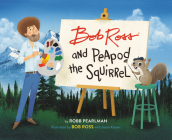 $17.99
ISBN: 9780762467792
Availability: On our shelves now (please call to confirm)
Published: Running Press Kids - October 8th, 2019
---