ONLINE EVENT: Bedtime story w/ Raj Haldar "P is for Pterodactyl"
Kids, don your jammies and come listen to a bedtime story read by the author himself! Raj Haldar reads his clever and funny take on an alphabet book, P Is for Pterodactyl: The Worst Alphabet Book Ever.
This free online event will take place through Zoom. In order to gain access, attendees must register by clicking the link below:
Get a head start and make sure you can join the event on time by downloading Zoom (for free) onto your computer or device right now.

Support our independent bookstore and buy
P is for Pterodactyl books from Wellesley Books below!
Curbside pickup is now available.
--------------------------------------

ABOUT P IS FOR PTERODACTYL
From wacky words to peculiar pronunciations, get kids excited about language with this unconventional alphabet book from Raj Haldar (aka Lushlife).
Turning the traditional idea of an alphabet book on its head, P is for Pterodactyl is perfect for anyone who has ever been stumped by silent letters or confused by absurd homophones. This whimsical, unique book takes silent letter entries like "K is for Knight" a step further with "The noble knight's knife nicked the knave's knee." Lively illustrations provide context clues, and alliterative words help readers navigate text like "a bright white gnat is gnawing on my gnocchi" with ease. Everyone from early learners to grown-up grammarians will love this wacky book where "A is for Aisle" but "Y is definitely not for Why."
ABOUT THE AUTHOR
Better known by his stage name Lushlife, Raj Haldar is an American rapper, composer, and producer from Philadelphia, PA. This is his first book. Chris Carpenter is a software developer for a tech startup in New York. Maria Beddia is a freelance illustrator, muralist, and textile designer based in Philadelphia.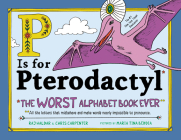 $17.99
ISBN: 9781492674313
Availability: On our shelves now (please call to confirm)
Published: Sourcebooks Explore - November 13th, 2018
---