ONLINE: Bedtime Story w/ the Author: Erin Dionne "Balletball"
Kids, don your jammies and join us for a Bedtime Story with the author herself! Erin Dionne reads Balletball, in which a young ballet fan learns that her love of dance might just lead to a love of baseball.
------------------------------------------
ABOUT THE BOOK
Nini loves everything about ballet—the sparkles, the costumes, the twirling! But in the spring there's only baseball practice. Baseball is nothing like ballet. Or is it?
Nini hates baseball. She hates that baseball is not ballet. She especially hates that Mom signed her up to play, but now she's stuck with the sport. Nini just can't bring herself to try. Her team starts to lose, but not even her teammates' disappointment will change her feelings. A pep talk from her coach and sparkly shoelaces help—a little. When Nini makes a game-winning catch using her ballet moves, she realizes that change might not be so bad after all, and ballet and baseball have more in common than she thought.
ABOUT THE AUTHOR
Erin Dionne's latest book for tweens is Secrets of a Fangirl (Scholastic 2019). Her other novels are Lights, Camera, Disaster, Models Don't Eat Chocolate Cookies, The Total Tragedy of a Girl Named Hamlet, and Notes from an Accidental Band Geek.

Her novel Moxie and the Art of Rule Breaking: A 14 Day Mystery, is based on the real-life Isabella Stewart Gardner Museum art heist and was a 2014 Edgar Award finalist. The series continues with Ollie and the Science of Treasure Hunting. Her first picture book, Captain's Log: Snowbound, illustrated by Jeffrey Ebbeler, was released in 2018 and received a starred review from Kirkus. Her second picture book, Balletball, came out February 26, 2020.

A graduate of Boston College (BA English & Communications) and Emerson College (MFA), she teaches at Montserrat College of Art and lives outside of Boston with her husband, two children, and a very indignant dog.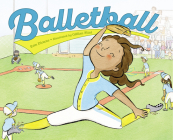 $16.99

ISBN: 9781580899390
Availability: On our shelves now
Published: Charlesbridge - February 25th, 2020
---