ONLINE: Bedtime Story with the Author: Elizabeth Lilly "Let Me Fix You a Plate"
Kids, don your jammies and join us for a Bedtime Story with the author/illustrator herself! Elizabeth Lilly, author/illustrator of Geraldine, reads Let Me Fix You a Plate: A Tale of Two Kitchens, her wonderful picture book about a road trip to visit family.
------------------------------------------
ABOUT THE BOOK
Whether you're settling in for a heaping plate of banana pudding or arepas and tostones, a good meal can always bring families together.
Once a year, on a Friday night,
My family leaves the city
And drives hours and hours…
First my family drives through the mountains to stop at Mamaw and Papaw's house in rural West Virginia. We share blueberry jam and toast for breakfast the next morning, then munch cookies and cut bananas to make banana pudding with Mamaw. After the last bite of pudding, we get ready for the next part of the journey, down to Florida to visit Abuela and Abuelo for crispy tostones, fresh squeezed juice, and arepas with queso blanco.
Elizabeth Lilly's tale of a joyous road trip, drawn from her own experience, is illustrated with quirky charm that captures all the warmth and love of her family's two distinct cultures.
ABOUT THE AUTHOR
Elizabeth Lilly is a children's book author-illustrator, animated filmmaker, and art educator. She has written and illustrated two picture books for publication: GERALDINE (Roaring Brook Press/Macmillan) in 2018 and LET ME FIX YOU A PLATE (Holiday House) in 2021.
Elizabeth was raised in the Maryland suburbs of Washington, DC in a mixed family, with a Colombian mom and American dad. She and her three sisters grew up speaking two languages and living in two worlds. Today Elizabeth writes and illustrates picture books, writes and directs her own animated films, gives talks about being an author to schools, and teaches drawing and illustration as an adjunct professor at Towson University. She lives in a little old house in the little old city of Baltimore, Maryland, USA with her fluffy white dog, Ponyo.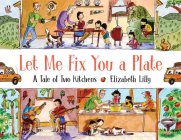 $18.99

ISBN: 9780823443253
Availability: On our shelves now.
Published: Neal Porter Books - September 7th, 2021
---

$17.99

ISBN: 9781626723597
Availability: Currently out of stock. Please call or e-mail the store for more info.
Published: Roaring Brook Press - June 26th, 2018
---