ONLINE: Bedtime Story with the Author: Danielle Joseph "I Want to Ride the Tap Tap"
Kids, don your jammies and join us for a Bedtime Story with the author herself! Danielle Joseph reads I Want to Ride the Tap Tap, a day-of-the-week picture book about a young boy and his parents who ride the taxi-bus service—called a tap tap—in Haiti, and the fascinating people they meet along the way.
------------------------------------------
ABOUT THE BOOK
On Monday through Saturday, Claude and Mama walk Papa to the tap tap. Along the way Claude encounters a lady selling mangoes, a fisherman, straw-hat maker, steel drummer, and an artist. Claude wants to join Papa on the bus, but Claude has chores at home and classes at school. Finally, on Sunday Mama and Papa surprise Claude with a ride on the tap tap and they ride to the beach where the lady selling mangoes, the fisherman, straw-hat maker, steel drummer, and artist show Claude how to paint, make hats, and fish. With Creole words sprinkled throughout and a glossary at the end, I Want to Ride the Tap Tap is a warm and lively portrayal of everyday life in Haiti.
ABOUT THE AUTHOR
Danielle Joseph is the author of the young adult novels Shrinking Violet, Indigo Blues, and Pure Red. When she's not writing, you can find Danielle relaxing with her family, traveling, or chasing after her dog, Ringo. Danielle was born in Cape Town, South Africa, and currently lives in Maryland with her husband, who is from Haiti, and their three kids.
Learn more at daniellejoseph.com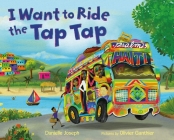 $18.99
ISBN: 9780374312145
Availability: On our shelves now
Published: Farrar, Straus and Giroux (BYR) - December 29th, 2020
---