ONLINE: Bedtime Story with the Author: Christopher Minor "Lily's Grooves"
Kids, don your jammies and join us for a Bedtime Story with the author/illustrator himself! Christopher Minor reads Lily's Grooves, a picture book about a naughty cat and the power of music.
------------------------------------------
ABOUT THE BOOK
Carrie and Ed Simon cannot wait to open their new music shop Grooves. They just have one fluffy little problem: Their wild, bouncy kitten Lily creates mayhem at every opportunity. How will they open their store while keeping an eye on this crazy kitty? What in the world could calm a frantic feline like Lily?
ABOUT THE AUTHOR
Christopher Minor is a lifelong music and cat lover. When he's not writing, he's either playing the guitar, watching baseball or listening to records. Once upon a time, Christopher had a kitten named Lily who loved to sit back and listen to music with him.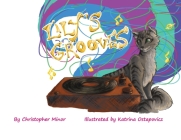 $14.20

ISBN: 9781662902604
Availability: On our shelves now.
Published: Gatekeeper Press - July 24th, 2020
---