ONLINE: Bedtime Story with the Author: Andrea Wang "Watercress"
Kids, don your jammies and join us for a Bedtime Story with the author herself! Andrea Wang reads Watercress, a picture book in which gathering watercress by the side of the road brings a girl closer to her family's Chinese Heritage.
------------------------------------------
ABOUT THE BOOK
Driving through Ohio in an old Pontiac, a young girl's parents stop suddenly when they spot watercress growing wild in a ditch by the side of the road. Grabbing an old paper bag and some rusty scissors, the whole family wades into the muck to collect as much of the muddy, snail covered watercress as they can.
At first, she's embarrassed. Why can't her family get food from the grocery store? But when her mother shares a story of her family's time in China, the girl learns to appreciate the fresh food they foraged. Together, they make a new memory of watercress.
Andrea Wang tells a moving autobiographical story of a child of immigrants discovering and connecting with her heritage, illustrated by award winning author and artist Jason Chin, working in an entirely new style, inspired by Chinese painting techniques. An author's note in the back shares Andrea's childhood experience with her parents.
ABOUT THE AUTHOR
Andrea Wang is the award-winning author of The Nian Monster (APALA Honor, PW starred review) and Magic Ramen: The Story of Momofuku Ando (JLG Gold Standard Selection, Sakura Medal, Freeman Book Award Honor, SLJ starred review). She has two books releasing in 2021: Watercress (JLG Gold Standard Selection, starred reviews from Kirkus, SLJ, PW, Horn Book); and The Many Meanings of Meilan, her debut middle grade novel. Her work explores culture, creative thinking, and identity. She is also the author of seven nonfiction titles for the library and school market. Andrea holds an M.S. in Environmental Science and an M.F.A. in Creative Writing for Young People. She lives in the Denver area with her family.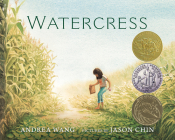 $18.99
ISBN: 9780823446247
Availability: On our shelves now
Published: Neal Porter Books - March 30th, 2021
---