ONLINE: Bedtime Story w/ the Author: Amy June Bates "When I Draw a Panda"
Kids, don your jammies and join us for a Bedtime Story read by the author herself! Amy June Bates reads When I Draw a Panda, about a girl who draws a panda that comes to life and helps her embrace her creativity and unique way of seeing the world.
----------------------------------
ABOUT THE BOOK
"This amusing picture book encourages imagination and individuality."
—Booklist
From the acclaimed author and illustrator of The Big Umbrella comes a delightful celebration of creativity and gumption about a girl and her panda that's Calvin and Hobbes meets If You Give a Mouse a Cookie.
When a girl draws a panda, it comes to life and helps her embrace her own creativity and unique way of seeing the world.
ABOUT THE AUTHOR
Amy June Bates is the illustrator of over 50 books. She picked up a pencil when she was three and hasn't stopped drawing since. She grew up with six younger brother and sisters, none of whom have turned into crows or swans. She has lived in California, Maryland, Michigan, Utah, Pennsylvania, and Japan. She loves to wander. She prefers the mountains.
Some of her books include GITTEL'S JOURNEY by Lesléa Newman; THE DOG WHO BELONGED TO NO ONE by Amy Hest; KETZEL, THE CAT WHO COMPOSED by Lesléa Newman; SWEET DREAMS by Jewel; and HILLARY CLINTON: DREAMS TAKING FLIGHT by Kathleen Krull. In 2018 she published her first author-illustrated book, THE BIG UMBRELLA and she just released her second WHEN I DRAW PANDA.
She has received the National Jewish Book Award and the Sydney Taylor Award.
She has a messy husband and three messy kids and they all live together in a messy house with their messy dog. She lives in Carlisle, Pennsylvania, a town that is older than your great-granny.
They all like to draw.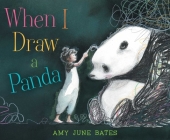 $17.99
ISBN: 9781481451482
Availability: On our shelves now (please call to confirm)
Published: Simon & Schuster/Paula Wiseman Books - September 22nd, 2020
---