E.S. Redmond
E. S. Redmond was inspired to write her first book, Felicity Floo Visits the Zoo, after a trip with her children to a petting zoo. She says, "I remember watching all these smiling, wobbling toddlers surrounding the animals. Every little nose was running, and the sheep resembled very large mounds of tissue. It struck me as altogether funny and ironic that the hand soap was mounted on the fence at the exit. Nice for us, not so great for the sheep." E. S. Redmond lives in Massachusetts.
To get a signed copy, simply write "SIGNED COPY" in the comments section. Indicate if you would like it customized for a specific person (books must be pre-paid for this option). Gift wrapping is complimentary.

$15.99

ISBN: 9780763689353
Availability: Currently out of stock - NOT AVAILABLE TO ORDER
Published: Candlewick - January 2nd, 2018
---

$15.99
Email or call for price.
ISBN: 9780763634452
Published: Candlewick - February 28th, 2012
---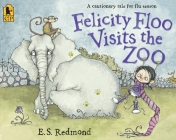 $9.27
Email or call for price.
ISBN: 9780763649753
Published: Candlewick - September 28th, 2010
---