Here We Are (MP3 CD)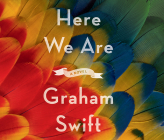 $22.99
This title is currently unavailable to order. Please check back, as stock may become available in the future.
October 2020 Indie Next List
---
"Here We Are is a beautiful evocation of love, memory, and magic. With mesmerizing prose, Swift tells the tale of Jack, Ronnie, and Evie, who form a bond in the summer of 1959 when they work together at a variety show in Brighton, England. Ronnie hires Evie to be part of his magic act, and the two soon fall in love. Jack, the show's master of ceremonies, is Ronnie's best friend but he knows little about Ronnie's childhood experiences during the war. Fifty years later, Evie is looking back at their lives and what happened during the summer that changed everything. This quiet, compact novel soars with the grace and poignant feeling of Swift's masterful writing."
— Lori Feathers, Interabang Books, Dallas, TX
Description
---
It's the summer of 1959, and something magical can be witnessed at the end of the pier in beach town Brighton, England. Jack Robbins, Ronnie Deane, and Evie White are performing in a seaside variety show, starring as Jack Robinson, the compere comedian, and The Great Pablo and Eve, a magic act. By the end of the summer, Evie's glinting engagement ring will be flung to the bottom of the ocean, and one of the trifecta will vanish forever. All three friends begin their path toward the end of Brighton's pier early in life. Evie and Jack's mothers are always trumpeting the support that is trademark of stage mothers, while Ronnie's mother sends her son out in the child evacuations to Penny and Eric Lawrence for safety from the London blitz. It's within the safety and love of Evergrene, the Lawrences' estate, that magic creeps into Ronnie's life for the first time and starts the intricate intertwining of fate, chance, and show business. Magic and reality share the stage in this masterfully devastating story that pulls back the curtain on the power of love, family, and the touchstones of our memories.