The Dive: The Untold Story of the World's Deepest Submarine Rescue (Compact Disc)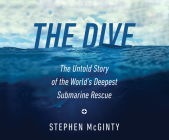 $49.99
This title is currently unavailable to order. Please check back, as stock may become available in the future.
Description
---
Outside was pitch darkness and the icy chill of the ocean's depths--and the crushing weight of 1,700 feet of water. On the surface, a flotilla of ships and a rescue operation under the command of an eccentric retired naval commander. For three days, the world watched and held its breath. On August 29, 1973, a routine dive to the telecommunication cable that snakes along the Atlantic sea bed went badly wrong. Pisces III, with Roger Chapman and Roger Mallinson onboard, had tried to surface when a catastrophic fault suddenly sent the mini-submarine tumbling to the ocean bed--almost half a mile below. Badly damaged, buried nose first in a bed of sand, the submarine and the two men were now trapped far beyond the depth of all previous sub-sea rescues. They had just two days' worth of oxygen. Rescue was three days away. The Dive reconstructs the minute-by-minute race against time that took place to first locate Pisces III and then execute the deepest rescue in maritime history. Ricocheting from the smoke filled "war room" at Vickers, the world famous ship-building headquarters in Barrow-in-Furness, to the surface vessels and then down to depths where three separate dive teams and the mini-submarine struggled in darkness, this thrilling adventure story shows how Britain, America, and Canada pooled their resources into a "Brotherhood of the Sea" dedicated to stopping the ocean depths from claiming two of their own.