The Memory of Babel (MP3 CD)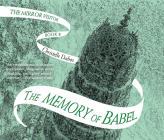 $22.99
This title is currently unavailable to order. Please check back, as stock may become available in the future.
Description
---
After two years and seven months biding her time on Anima, her home ark, it is finally time to act, to put what she has discovered in the Book of Faruk to use. Under an assumed identity, Ophelia travels to Babel, a cosmopolitan and thoroughly modern ark that is the jewel of the universe. Will her talent as a reader suffice to avoid being lured into a deadly trap by her ever more fearful adversaries? Will she ever see Thorn, her betrothed, again?