16 Words: William Carlos Williams and "The Red Wheelbarrow" (Hardcover)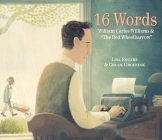 Description
---
This simple nonfiction picture book about the beloved American poet William Carlos Williams is also about how being mindful can result in the creation of a great poem like "The Red Wheelbarrow"--which is only sixteen words long.

"Look out the window. What do you see? If you are Dr. William Carlos Williams, you see a wheelbarrow. A drizzle of rain. Chickens scratching in the damp earth." The wheelbarrow belongs to Thaddeus Marshall, a street vendor, who every day goes to work selling vegetables on the streets of Rutherford, New Jersey. That simple action inspires poet and doctor Williams to pick up some of his own tools--a pen and paper--and write his most famous poem.

In this lovely picture book, young listeners will see how paying attention to the simplest everyday things can inspire the greatest art, as they learn about a great American poet.
About the Author
---
LISA ROGERS is an elementary school librarian and a former newspaper reporter and editor. In 2016, she received the PEN New England Susan P. Bloom Children's Book Discovery Award for an early version of 16 Words. She holds a master's degree in Library and Information Science and is a member of SCBWI. This is her first book for children. Visit her on the web at lisarogerswrites.com or on Twitter at @LisaLJRogers.

CHUCK GROENINK was born and raised in the Netherlands and graduated from the Artez Institute of Visual Arts in 2004. He has been working as an illustrator ever since. His books include Hank's Big Day by Evan Kuhlman, which received three starred reviews, and William's Winter Nap by Linda Ashman, called "just right" in a Booklist starred review. Visit him on the web at chuckgroenink.com or on Twitter at @ChuckGroenink.
Praise For…
---
"At once spare and lush: a gorgeous introduction to the power of poetry." —Kirkus Reviews, Starred Review

"Williams's koanlike poem closes the story, its marvel of compacted meanings crystallizing everything that has come before. " —Publishers Weekly, Starred Review

"Great for reading aloud, this will also be a good choice for launching poetry units and inspiring neophyte poets." —Booklist
  
"A unique picture book that shows how poetry can capture a feeling or an image with a few well-chosen words." —School Library Journal

"Debut author Rogers suggests that there is power in noticing, as Williams did—finding the extraordinary in the ordinary." —The Horn Book